Please note that it may take 30 days to process your application.
The Medi-Cal Peer Support Specialist application is available here on our website. Please review the Initial Certification or Grandparenting Certification page to ensure you understand the requirements, the time commitment, and have everything you need to start your application process. Please note that the application cannot be saved and must be completed all at once.
For more detailed instructions, notes and application status definitions , please review the How To Section in our Resource Library.
1. Scroll up on this webpage and select the 'Register/Login" button

2. Click on 'Sign Up' and either sign in with your Google or Microsoft account or create a new login with your email, password, first and last name. Click the purple SIGN UP button to continue.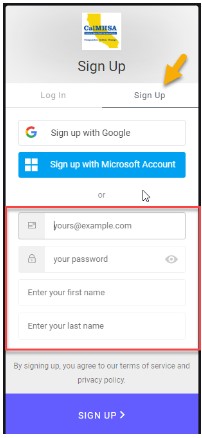 3. You will receive a confirmation email, click the link provided to verify your email. The link will direct you back to the CalMHSA dashboard. 
4. Select the Apply button on the Peer Certification Application box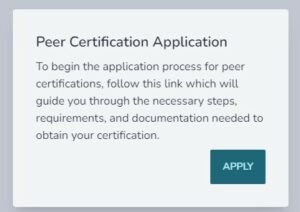 5. Next, follow the step by step instructions on the application dashboard. Once you complete a step, you will see a green checkbox, and the next step will show available to continue. You cannot begin a step without completing the previous step.